Crave-man Cavings: 4 Paleo Dessert Recipes
It's just a few days till Christmas. As such, I'm a mess of automatic sugar cravings. It's mostly the memories, you know? All those years my mother and I would bake (with white sugar! white flour! oh, gosh, the horrors!) and eat and bake and eat some more, finally collapsing in front of the Christmas tree to watch It's a Wonderful Life.
The tradition of Christmas cookie eating didn't die out when I went Paleo. Instead, it bolstered with creative energy. Why can't I have my Paleo diet and eat cookies, too? was my general question. Because I consider myself something of a perspicacious person, I was ready to do whatever I could to make my Paleo dessert recipes work.
Check out my most-favorite paleo dessert recipes below. Delight in the sheer pleasure of nomming when it's snowing outside, when your family is finally together after a long year. (Or just eat these when you're stressing about all the holiday shopping you haven't done yet. That might be what I did today, but I would never admit to it.)
No worries about turning your oven on for these Paleo Grab's Grain-Free Brownie Bites. There are only five ingredients in these sinfully delicious brownies; therefore, it's perfect for you non-bakers out there. Furthermore, these are literally perfect for freezing if you want to make a big batch and save some over for mid-January, when the snow keeps coming and there's no tinsel in sight.

Living Healthy with Chocolate blog has my interests in mind. They contain cinnamon, which is an appetite suppressant that might–might–restrict you from eating another one. What's more, they contain blanched flour, coconut palm sugar, and a cup of pumpkin puree, leaving them with a very, very low carb count if you're looking to reduce and count your carbohydrates.
Plus, I have to add that blondies are my essential favorites throughout the year. I normally eat my regular blondies with butterscotch chips (not Paleo, I know), but I LOVE the amazing juxtaposition between the pumpkin and the chocolate flair. Use these for a perfect holiday treat that are just a hint different than the norm.

I simply adore these paleo dessert cupcakes. I hadn't had a cupcake in years, I don't think. Usually, I thought they "weren't worth it" when compared to their compatriots, the cake slice or the blondie. However, these paleo-friendly cupcakes are simply divine. They contain dates, which are my favorite snack–and something I continually keep in my house. What's more, they have this wonderful texture to them from the mashed bananas.
Note that I didn't have any fresh fruit to put on top, so I put a few dark chocolate chips on some of them and walnuts on others. They turned out really well!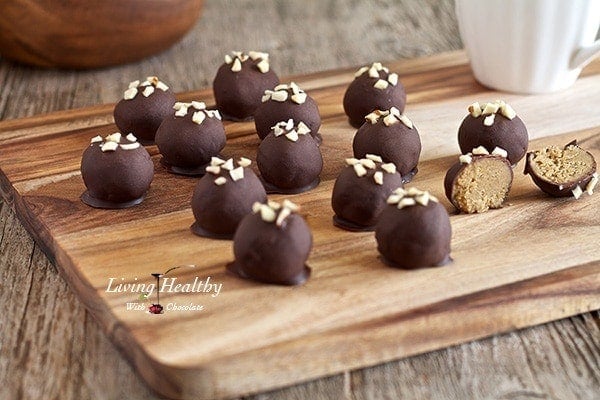 Yes, yes. I'm featuring Living Healthy with Chocolate yet again. But only because peanut butter truffles–something we called buckeyes in my house, for some reason–were something of a tradition in my pre-Paleo days, especially during the Christmas season. These faux-peanut butter ones are simply divine.
Small side-note. I miss peanut butter. I miss it like nobody's business. But I honestly had no idea that you could utilize sunflower seed butter for these "buckeyes." They taste almost the same as my pre-Paleo buckeyes.
So: I may or may not have nipped a few spoonfuls of sunflower seed butter, just on the side, as I was baking these. My old days of peanut butter-eating-by-the-spoon could be rivaled with my new beau, sunflower seed butter. (But perhaps the price tag on the stuff will keep me away!)
And there you have it. My four favorite paleo dessert recipes of the moment. I will be coming back with a few more shortly. My baking is never done in these winter months. Especially when there are so many lovely friends and family members to see, gifts to buy, and snow to play in.
Cheers, Paleo dieters! Enjoy the holiday season!